The Big Man (US title - Crossing the Line)
1990 big screen adaptation of William McIlvanney's novel, The Big Man starring Liam Neeson, Joanne Whalley and Billy Connolly. The film's score was composed by Ennio Morricone.
Produced by Miramax Films.




Dreaming - Wrote screenplay and lyrics for all songs. Music by various people - Ricky Ross four songs and Billy Connolly. Directed by Mike Alexander and Musical Director was Andy Park. One song sung by Marianne Faithfull.




Night Flyte - Hosting a season of six discussion programmes covering a range of social issues




Only a Game - Wrote and voiced the commentary interviews conducted by Roddy Forsyth five part series for BBC Scotland.


Robert Burns - A Journey (1985)
BBC Scotland a documentary considering the significance of a Highland journey undertaken by Burns.




Book Programme (between the lines?)
BBC Scotland Two six part series. Part studio discussion
with documentary segments.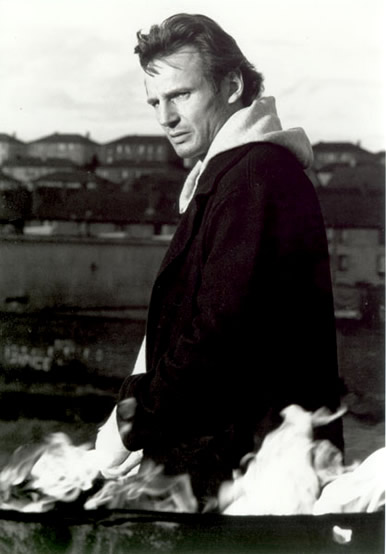 Liam Neeson in a scene from "The Big Man"