The Jury Room

(Week 10)
Posted 15th July 2014
Body-surfing and solitaire for two or... From The Herald : Sat 16-May-1998
Will you love me forever tonight?
Sunbed the Sailor, who sees a girl in every port, is standing at the bar, staring into the glass of Cockburn's in his hand. They bring a bottle of it through from the bar in the restaurant, if necessary, any time he comes in. The Jury Room is like that, careless about having anything as exotic as port or lemon slices but obliging enough to send a runner to the restaurant for them on request.
The brandy glass in which they serve him (Come on, it's not Optrex I'm drinking) hangs with the stem between his middle fingers. The deep red of the port tremors there, catching small blades of light like icicles that melt instantly. The effect is mesmeric, as is the unnaturally dark sheen of Sunbed's hair, the source of which is said by many in the Jury Room to be Cherry Blossom.
Apart from his colouring, he looks like a cut-price Rutger Hauer - hair combed straight back from a big-boned, worn face. The long, expensive raincoat is open to reveal a suit that might be by Armani out of Ralph Slater. There are three buttons undone on his shirt, showing a tan all the way down in his cleavage. He is unusually thoughtful.
Can you believe it? he says to me.
I can and I do. I know what he is referring to, something which happened a few minutes ago.
I had been sitting at the table with the Post Romantics, as I sometimes do - Tequila Sunset, Karma Chameleon and Mary Contrary. These are three interestingly different women, presumably connected partly by the accidents of circumstance and partly by the shared experience of being a woman in these shifting times.
They began coming to the Jury Room together before the Singles Nights and then took to dropping in from time to time for no other reason than to be there. Sometimes they appear to be just passing through, limbering up en route to more exciting places, like Cottyer's or Victoria's. (To read on click here.)





The pub was quiet. When the big man with the ill-fitting suit came in, the barman noticed him more than he normally would have done. The suit was slightly out of fashion yet looked quite new and it was too big for him. He could have come back to it after a long illness. Yet it wasn't that either. Whatever had happened to him had tightened him but not diminished him. The char­coal grey cloth sat on him loosely but that looked like the suit's problem. You wouldn't have fancied whoever the suit might fit to come against the man who wore it.

He came up to the bar and seemed uncertain about what to order. He looked along the gantry with a bemused innocence, like a small boy in a sweet-shop.

`Sir?' the barman said.

The big man sighed and shook his head and took his time. His face looked as if it had just come off a whetstone. The cheek-bones were sharp, the mouth was taut. The eyes were preoccupied with their own thoughts. His pallor suggested a plant kept out of the light. Prison, the barman thought.

`Uh-huh,' the big man said. 'Fine day. I'll have.' It seemed a momentous choice. 'A pint of heavy.'

He watched the barman pull it. Paying, he took a small wad of singles from his pocket and fingered them deliberately. He studied his change carefully. Then he retreated inside himself.

Making sure the patch of bar in front of him was clean, he spread his Daily Record on it and started to read, the sports pages first. (To read on click here.)




Dispatches




This website features writing by award-winning author and journalist William McIlvanney. One or two new Dispatches will be posted regularly and will be archived on this site. A lot of the writing featured here is new and unpublished, although extracts from Willie's existing body of work - journalism, essays and short stories - will also be included. All writing -

William McIlvanney.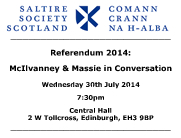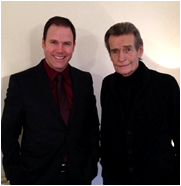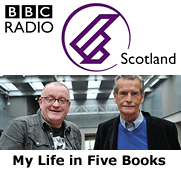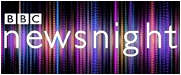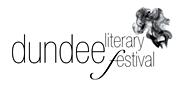 To read Doug Johnstone on William McIlvanney click here.

Willie and his website are featured on page 3 of S on S. Click here.

To read Susan Mansfield's article on William McIlvanney click here.



To read Allan Massie on William McIlvanney click here.

To read Hugh Macdonald on William McIlvanney
click here
.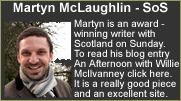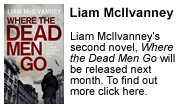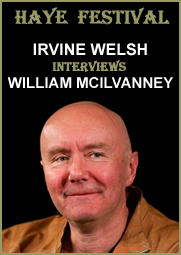 At the Haye Festival on Sunday June 2nd 2013, Irvine Welsh interviewed William McIlvanney. Check it out here. After one particularly dark question about the socio-economic conditions in eighties Scotland, Irvine lifted the mood with: "Anybody got a question about puppies, bunnies & kittens?" Love it! And what an infectious laugh!